Get Started With Mobile Casino Games
Getting started with mobile casino games on your mobile phone is easy. Below you'll find a step by step guide to get started. This guide works for iPhone and iPad, Android, Blackberry or any other smartphone or a regular mobile using WAP.
Mobile Casino Step by Step Guide
The step by step guide presented is presenting the most common way of signing up at a mobile casino. It works basically exactly the same way regardless of which mobile casino you choose.
1. Find a mobile casino:
Best Casinos for United Kingdom
Best Licensed Casinos in Sweden
2. Fill out your details: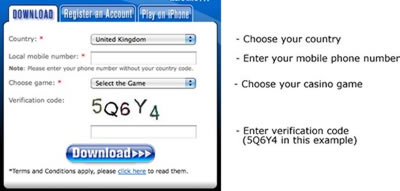 Downloading and Installing
3. After you've clicked "Download" you will receive a text message on your phone. In this text message there is a WAP link. You simply click this WAP link and the casino games app will automatically download to your mobile phone. You will then find the game on your phone in the games folder (You can also play directly in your mobile browser).
4. Click the casino logo in your games folder to start the game.
Register and Opening an Account
5. If you which to play for real money you simply click "Play for Real" and then choose "Register". Follow the instructions to create your real money account.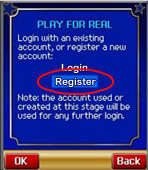 Deposit and Play
6. After registering and opening a real account you can deposit money directly using your phone or online at the homepage of the casino. Choose "My Account" and your preferred method for deposits.
When depositing you will automatically receive the signup bonus offered by your casino. In this case it's the 100% signup bonus offered at Wild Jacks Mobile Casino. Please note that you are only entitled to this bonus on your first deposit.
7. This is the most important step:
Have Fun!