Omaha Poker Mobile
Omaha is Where the Greener Pastures are at in Online Poker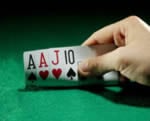 Patience and trapping is to Hold'em as action and stacking are to Omaha. This form of poker is steeped in tradition and is ushering in a new age of intense game play. The changes between holdem and Omaha are easy to grasp.
However, the intricacy that comprises expert play takes a lifetime to master. This is truly a poker pursuit for those that want a high adrenaline ride based on skill with an element of luck at their side.
Best Mobile Omaha Poker
Mobile Omaha Pokerrooms

Pokersite

Poker Bonus

Bovada Mobile Poker Bonus for Omaha Poker:
100% Match Bonus

Poker Bonus: - up to 500 USD free
Mexico Poker Bonus: - up to 9000 MXN free
Brazil Poker Bonus: - up to 1500 BRL free


Available to players from Brazil, Mexico and the United States (except players located in New York, New Jersey, Delaware, Maryland and Nevada)

100% match bonus - up to $1000 free
(must be redeemed within 30 days)

Available to players from the and Australia

100% match bonus - up to $500 free

Available to players from Europe, Asia, Africa, Canada and Mexico

100% match bonus - up to $100 free (instant play bonus)

Available to players from Europe, Australia, New Zealand and South Africa

Up to $200 free bonus

Available to players from Europe, Australia and New Zealand
Basic Differences Between Hold'em and Omaha Poker
The cards keep coming is the first thought that races through the minds of the Hold'em player as the third and fourth cards are dealt to each person. With four cards in hand, the rules that govern their usage are straight forward.
Two and only two cards are to be used in determining hand value at any juncture. This is a great difference from the game that most new poker players were first introduced to.
Hold'em dictates that a player can use both, one, or even play the board to get their best hand. Not so with omaha poker as three of the community cards have to be used with two of the four in your hand. Some practice is needed at first to divine the true value of the hand but once acquired, this process becomes seamless.

Number of Players at Table
Fluidity in strategy is necessary as it pertains to the number of players at the table. This adage is similar to poker. At a full table, there is a very real possibility that equally strong hands will come against each other.
If multiple players remain in a contested pot with a flush draw on board then the king high flush that you are potentially hold is more often than not a piece of trash. Even when you make the flush on the turn with the ace of that suit in your hand, you have to throw it away in most circumstances when the boards pairs on the river.
As the amount of combatants lessen, you can draw to more hands as that premium holding is less likely to be held. With the vast amount of tables, omaha poker online sees this option play out with whatever table you select to play at.

Minimum and Maximum Buy In's Only
Cash brought to the table in a PLO game should equate to either the minimum or maximum allowed buy in for the table. What you buy in for dictates the optimal strategy you should employ.
The main advantage for the short stack approach is that there are few conceivable situations in which you can be bet off of a pot holding reasonable draws. An aggressive person will go to war with two pair or a set against your draws both to a flush and a straight.
Scare cards have little relevance as a pre flop raised pot should allow the micro stack to get it all in on flops conducive to their many outs. With it all in at that juncture, the game plays itself and mathematics rule. Post flop play including the utilization of many possible scare cards are taken out of the equation.
The antithesis comes into play with the big stacks. The emphasis of the game switches to post flop play and the implementation of scare cards. As a game gets more short handed, the winning hands become less conducive of being the nuts. With preflop percentages being much more closer than Holdem, the game becomes two pronged.
First and foremost, the price can be extracted much better for pursuing draws because the villain has to face the possibility of facing pot bets on the flop and the turn to see each card. Secondly position can be employed much better with that dreaded river scare card. Often even a backdoor flush or straight will have hit and now the aggressor faces the very real possibility that the chaser got there from his equity in some remote draw included in all his live outs before.
There is still enough in each players stack where now the protector can face a river bet that can be a bluff or value from a newly made hand. Experience and feel are rewarded when opting to play big stack cash omaha.
Mobile Omaha Poker
This game has the proper flow for the mobile environment. With the always on the go attitude, hold'em is considered to be too stodgy for this new computing scene. NLH was the standby when games were nine or ten players where tight and patience play are rewarded. In the new age of adrenaline, we deserve a game whose action and skill represent the speed of our devices. Omaha is the new king of mobile poker.
The game plays has much more fluctuation than a NLH game would have at the same buy in. With an onus on both protecting your made hands and hitting those draws hard, mobile gaming has found a new manner to make money with mobile omaha poker. Come armed with much more money if you insist on playing at the same levels you did in NLH as proper play dictates decisive action and wagering on every street.
With the advent of mobile omaha poker, we have entered the second age in which we see PLO gaining popularity. This game is perfectly suited for the environment that is on the go and mobile device dominated. Now is the time to acquaint yourself with this game and sharpen your skills.
This game rewards skill much more than in hold'em. Instead of trapping, flop play and mathematics can propel your bankroll to new heights with pot limit omaha as your game of choice Make the logical leap and transition to PLO today.